Matthew Wagner

    'A Story to be Shared'

'Kidney Transplant Donor Still Needed'

Matthew Wagner stands in front of Memphis Kidney and Dialysis Services , where he goes for treatment. Wagner, lost a kidney in 1992, after being shot while trying to help someone injured in connection with a Tipton County bank robbery.  Now Matt's other kidney is failing, and he is in need of a transplant.

If you would like to be a donor and help a young man have a healthy and normal life please contact:

Matt Wagner or his mother   Lenda Wagner at :        901 476 5314   Home

901 857 0970  Cell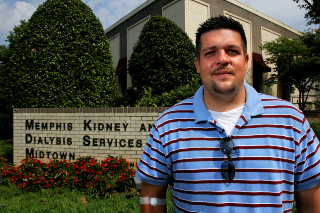 This is the story of what happened to Matt:  Fifteen years ago, Matthew Wagner, then 17, made headlines across the Midsouth after having sustained critical injuries following a bank robbery in Mason, Tennessee

It was Friday, April 24, 1992, and at 2:15 p.m. the Bank of Mason was being robbed by Derrick Taylor, then 26, and David Poindexter, then 18. The two men were wearing black ski masks and wielding guns and ended up with $44,000.

An investigator with the District Attorney General's office was at city hall when the alarm sounded and then went to Bozo's Restaurant parking lot where he saw the men enter their 1984 Chevrolet as they took their ski masks off.

Website by

thompson webgroup

'web designers'

acss@bellsouth.net

MATT GOT A KIDNEY  !!

June 9, 2009  11:15 P.M.